[ Hurt-Locker #002 ] : From Ear To There (Part 1 of 2)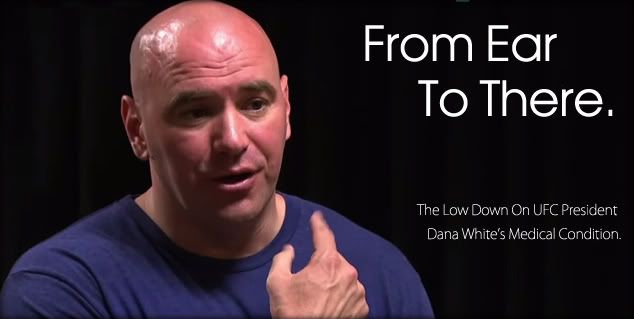 Dana White, the President of the Ultimate Fighting Championship (UFC), is a man best known for making Mixed Martial Arts (MMA) news headlines for what comes out of his mouth, but more recently has been in the news for what's going on in his ear.
White recently shared with the MMA world that he suffers from an inner ear problem known as  Ménière's disease (pronounced min-yairs). And, in true transparent Dana White fashion, he's opened up about his battle with the condition, the treatment he's receiving and his beef with doctor's who wont give him the surgery he thinks he needs. In part one ofthis edition of The Hurt-Locker we'll help make sense of what Ménière's disease is, what causes it and how it's treated. 
The Basics - The Ear, What It Is, What It Does And How It's Supposed To Work: 
The general ear anatomy can be broken down into three major parts: The outer ear, which is basically the stuff you can see on the side of your head (i.e. earlobe, some of the ear canal etc, etc). The middle ear, this area starts behind the eardrum; when most people talk about having an "ear infection" this is the space they're most often talking about. Last we have the inner ear, there is a lot going on here and this will be the area we focus on the most when talking about Ménière's disease.